The next rep council meeting is Thursday - December 10th.


Any and all BSA Members are welcome to express any concerns
at the beginning of each meeting.
| | | | |
| --- | --- | --- | --- |
| | | | |
Topics on the this page:
---
Annual toy drive


Toys will be donate to People To People for their JOY STORE
*Possible choices: board games, building toys, sports equipment, journals, scrapbooks, craft kits, action figures, dolls, musical toys, educational toys, books, gift cards etc.

When: November 16th – December 18th

Needed: New unwrapped toys for children of all ages.


Where to donate: You can give donations to your building rep. or place in designated drop off locations

Locations: Kaplan Bldg. 4, 6, 10, Hilltop & BERC

If you have any questions please contact
Elena Temple
845-627-4800 or
etemple@rboces.org
---
Annual food drive


Food will be donated to People To People

When: November 9th - April 11th

Needed: Canned foods and non-perishable food


Where to donate: You can give donations to your building rep. or place in designated drop off locations

Locations: Kaplan Bldg. 4, 6 & 10, Hilltop, and BERC

If you have any questions or need items picked up please contact
Elena Temple
845-627-4800 or
etemple@rboces.org
---
Second Annual Billiards Bonanza on Thursday January 14th at Diamond Jim's Billiards in Nanuet.


Rally your members and put together a billiard team(s).


Here is how it will work:

Put together a team (or two or three teams!) of 3-5 Cue Sportsman or Sportswoman.
Teams will be assigned a start time (either 4pm, 5pm, or 6pm) and shoot one official game against another local. Players make alternate shots, not turns.

Teams are encouraged to wear your local's t-shirts and colors.

Fill out registration form and send it to the address listed ($150 per team).

WINNING TEAM WILL RECEIVE THE COVETED GOLDEN CUE TROPHY!

Raffles will be held throughout the evening.
Invite other members to come out and support your team, drink some beers, and socialize with your union brothers and sisters from around the region.


The event will also function as a fundraiser; with all the proceeds benefitting the United Hospice of Rockland County(UHR). The UHR provides care, hope, comfort and improved quality of life
to individuals and their families facing serious illness. They offer compassionate support to members of our community who have experienced the loss of a loved one.


For more information, visit


If you have any questions, please contact me at the below email address. I look forward to your participation.

Jon Wedvik
Clarkstown Teachers Association
president@clarkstownteachers.org
---
The tax on these healthcare plans will be implemented in 2018

To pay for the Affordable Care Act, the Obama administration and Congress adopted a number of financing mechanisms. While overall we supported the ACA, we were concerned from the beginning about the impact of the excise tax on so-called Cadillac health benefit plans.

Our members negotiated these "Cadillac" plans and, in many cases, gave up pay increases in exchange for better benefits. Access to high-quality healthcare should be encouraged, not penalized.

Now people from both sides of the aisle are calling for a repeal of this tax—including all three Democratic candidates for president and members of Congress like Rep. Joe Courtney (D-Conn.), Sen. Sherrod Brown (D-Ohio) and Sen. Dean Heller (R-Nev.).

The tax on these healthcare plans will be implemented in 2018, and many of our local unions are negotiating plans that already approach the threshold for this tax, which will affect their healthcare and wages. In my home state of New Jersey, it's estimated that 14 percent of employer-sponsored individual plans could be hit by the tax in 2018.

Because of this threat, we have worked to build a bipartisan effort and support from the business community to repeal this misguided tax. We need your help now to urge Congress and the administration over the finish line.

The window for getting this done in Congress is closing fast. To stop the tax, action must be taken before the end of the year. Write your senators now.

In unity,
Ann Twomey,
HPAE President, New Jersey
Randi Weingarten,
AFT President
---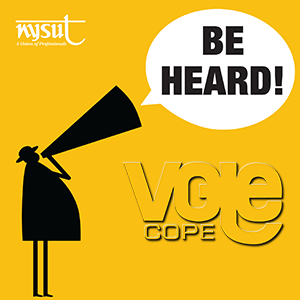 ---
Tell the Koch-funded Center for Individual Rights to stop their attack on working people and our unions!

In my over 20 years of teaching, I've seen America's economy swing out of balance in favor of corporate CEOs and wealthy special interests who manipulate the rules to benefit themselves at the expense of the rest of us.

It's already way too hard for many Americans to get by, let alone get ahead. Now there's a new case before the U.S. Supreme Court that threatens to make things even worse.

A group called the Center for Individual Rights, which the American Prospect recently revealed has been funded by the Koch brothers, other right-wing one-percenters, and even white supremacists1, is trying to make it even harder for public service workers to band together at work in order fight for benefits and wages we can use to provide for our families.

If they win, it will hurt teachers like me, as well as nurses, social workers, firefighters and others in public service. And it will hurt the people in our communities—my union and others around the country negotiate and speak up for the communities we serve every day, and this case would make it harder for us to do so.

Lacy Barnes, College Instructor
California Federation of Teachers, Local 1533
---
å

"Got to Go" list of the kids they plan to push out through harsh discipline or administrative deception.

According to the New York Times1, that's exactly what happened at Eva Moskowitz's Success Academy Charter Schools in New York City.

Fatima Geidi—a mother who had to remove her child with special needs from a Success Academy school after repeated suspensions for minor infractions—has started a petition with our partners at Color of Change, asking the Department of Education to conduct a civil rights investigation into Success Academy Charter Schools and to halt federal funding during the investigation. Sign her petition here!

In exchange for taxpayer funding, charter schools are required to serve all students. But at Success Academy, "zero-tolerance" policies and draconian rules are used to justify a suspension rate more than seven times higher than at other city schools.

Sign Fatima's petition at Color of Change, and ask the Department of Education to investigate Success Academy charters and to halt all federal funding while the investigation is ongoing.

In unity,
Randi Weingarten
---
Lax policing of charter schools opens door to "epidemic of fraud, waste"

Little is known about how charters spend federal and state tax dollars, even as politicians continue to increase funding for them while slashing budgets for traditional public schools.
---
Donations can be made until 12/31/15

RBSA - Making Strides of Hudson Valley

Wall of Hope
---
Rockland Teachers' Center


December 3, 2015 4:30PM - 6:30PM


Google Classroom
Facilitator: Greg Montague, STEAM Director, Rockland Teachers' Center



December 10, 2015 8:30AM - 10:30AM


Sustaining Your Healthy School for Student Success, Part II
Rockland County School Health and Wellness Coalition



December 10, 2015 4:30PM - 5:30PM


Literacy Instruction that Increases CCSS Close Reading Achievement Poster Session
Presenters: St Thomas Aquinas MS Ed Literacy Students

Instructional Strategies to Improve Student Achievement
New for Spring 2016 - Professional Development - College of Mount St. Vincent
February 4, 2016 – March 18, 2016

College of Mount Saint Vincent Course # CEGE503-R01 - RTC#89-10
Format: Face-to-face course
Site: North Rockland High School
Instructor: Ms. Jessica Fox
Credits: 3 Graduate or In-service
Dates: Tues., Mar. 1, 8, 15, 22, Apr. 5, 12, 19, May 3, 10, 2016
Times: 4:30 to 9:30 pm
Cost: Graduate: $680*/In-service: $370*/Prof. Dev. Audit Non-Credit: $150*
*Prices subject to change without notice.
For more information contact Joleen at 845-499-0851/jmurray@rockteach.org

NYS Teacher Center Online Academy (OLA)


All OLA courses are 15 in-service hours. OLA Course Fee: $150 per course
Register using MyLearningPlan at http://rockteach.org/
If you already have a MyLearningPlan ID, register at www.mylearningplan.com
Check the OLA catalog http://eeznt3.nyiteez.org/olacatalog/ for detailed descriptions, course requirements and expectations before registering!

All courses require internet access and a comfort level with email, Microsoft Word and uploading documents.

Some require knowledge of other technologies or programs.

Participants are expected to log in and work with the class site at least 3 times each week.

Scholarships may be provided through your local NYS Teacher Center.

Please secure approval from your home district, if needed, in advance.

Syllabi, Road Maps and Course Policies can be found on the OLA catalog




A Dignity for All Students Act (DASA) Toolkit

Instructor: Cecile Wren Grade level K-12
This online course will provide teachers with a collegial atmosphere that will enable them to create DASA activities that focus on alignment with district goals, the New York State Dignity for All Students Act, and the New York State Common Core Standards. The workshops are customized to meet the specific needs of each district and/or school. Participants will be provided with the opportunity for independent inquiry, learning in cooperation with others, and reflective practice. By participating in these activities, participants will enhance professional dialogue and effectively blend different, innovative, and practical strategies for implementation. As a result, participants will design a toolbox of research-based strategies and competencies will serve as resources for DASA program implementation.


Using Digital Resources to Enhance Reading Comprehension


Instructor: Denise Lewis Grade Level 2-12
Have you ever read a book... a short story... a poem and been able to see the characters, know the place, or empathize with the protagonist? Many students haven't had such a memorable reading moment. They'd much rather surf the web, text friends and search for themselves on Youtube. To motive students to read teachers can connect reading with the digital resources students use every day. There is a wealth of Web 2.0 resources to connect kids with books. Using Digital Resources to Enhance Reading Comprehension will provide teachers with the knowledge and skills to connect kids with reading through digital media and easy to use Web tools.


Using Literature Circles to Enhance Reading


Co-Instructors: Kerri Crawford and Emily Peterson Grade level K-8
The common core is asking us to assess text complexity. We must consider qualitative, quantitative, and reader and task. Course participants will examine the criteria for selecting text when conducting their literature circles. Literature Circles add an exciting dimension to a student's literacy experiences. These discussion groups encourage students to be positive members of a literate classroom community while capitalizing on how they personally respond to literature. This course will help the participant explore the various roles of the literature circle and select roles appropriate for their students - regardless of reading level or ability. Participants will conduct and record literature circles in their own classrooms.


Using Google Tools for Collaboration, Enrichment and Differentiation of Instruction


Instructor: Dorit Eilon Grade level K-12
This fun and engaging course offered by a Google Certified Educator, is designed to provide information and examples of various Google tools available to enhance the learning experiences of different learners. Participants will explore Google Earth, Google Docs (collaborative presentations, spreadsheets, documents and forms) Google Apps and Google SketchUp. Examples of how these tools can be integrated with different subject areas that are aligned to national and NYS standards will be shared. To complete this course, participants will create online collaborative materials, mini project and develop a plan to implement Google tools into their curriculum to promote learning in a 21st century environment. Participation in discussions, sharing of ideas and feedback is important, enlightening and promotes professional growth.
---
Common Core Survey

Note that you do not need to comment on every standard. Please comment on as few or as many standards as desired. You cannot change your feedback once you navigate away from a standard.

The New York State Education Department (NYSED) is conducting a review of the New York State P-12 Common Core Learning Standards in English Language Arts/Literacy and Mathematics. NYSED is conducting a survey in order to provide an opportunity for the public to comment on the standards. The results of the survey will directly inform any changes that we make to the standards as a result of the review. I look forward to hearing from you and reviewing your feedback on the standards.

-- Commissioner Elia

U.S. Department of Education said that all IEPs should conform to "the state's academic content standards for the grade in which the child is enrolled."

According to the guidance, IEP teams must ensure that programs feature grade-level academics, but that instruction and support services are tailored so children can learn the material and progress toward achieving their individual goals.
---
---
Kevin Connell
President

Joseph Bianchi
Vice President
Lilybeth Torres
Secretary, Union Rep, Lap Chair,
Year End Party Chair
Ann Neville
Treasurer
Jason Kahn
Union Rep, Negotiations Chair,
Lap Chair

Patti Trout
Union Rep, Grievance Chair
---
---